OnBase
OnBase Accounts
OnBase access is managed by active directory groups, which are assigned to a user's UR ID. These groups are maintained by individuals in each department. Please reach out to your supervisor to have them request access to OnBase.
OnBase Applications
There are three ways to access documents with OnBase.
Web Client
The OnBase web client provides the same functionality as the Unity Client. The biggest benefit is that there is no software that needs to be installed, which means that the users can use their preferred hardware (PC, MAC, Chromebook, etc.) to connect to OnBase. Additionally, the link provided below will not change even after an OnBase upgrade.
The following are a few considerations that may occur.
The Web Client can be accessed off campus; however VPN needs to be enabled first.
Pop up blocker. If pop up blocker is enabled a message will appear the first time OnBase is accessed. Usually there is an option to disable the pop blocker for the existing site (OnBase Web Client).
Browsers

Recommend using either Chrome or Firefox. If it is the first time using either of these browser it may take a few minutes before all updates are applied.
Edge also works
Any instance of Safari above 11.0 will not work.
Internet Explorer will work, however Microsoft is deprecating IE and it is built on older technology which is not as reliable.
If an incompatible browser is identified the following message will appear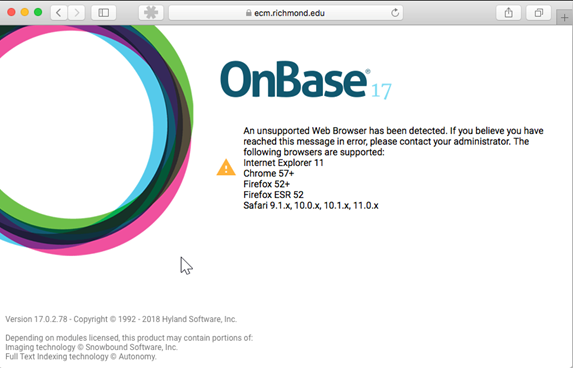 Link for the OnBase web client:
https://ecm.richmond.edu/AppNet/login.aspx
Unity Client
The OnBase Unity Client is a full OnBase client that can be installed on a Windows based workstation. The Unity Client can be accessed offsite with VPN enabled.
Plesae reach out to the Help Desk to have them install the Unity Client on your Windows based workstation.
Help Desk
(804) 287-6400
helpdesk@richmond.edu
Jepson Hall, Room G-19
Mobile Broker
The OnBase mobile broker provides some basic functionality (retrieval, form submission and Workflow) from an iPad or Android table.
Open the app store for your tablet
Download the OnBase 18 app from the App Store
Launch and configure the OnBase 18 application. The app will require the following server path: https://ecm.richmond.edu/MobileBroker
NetID and password will be used to authenticate both the AnyConnect and OnBase applications
OnBase Training
Hyland Software has a large number of training videos available on their site. In order to access the videos you must first create an account.
Hyland Account Creation
Click the "Create Profile" link; follow the directions. Please be aware it may take up to 2 business days for Hyland to review and approve your request.
Use your "@richmond.edu" email address as your username.
Do not use the same password as your UR ID password.
Choose "End User" as your employee role
Main Training Site
Recommended for all new OnBase users:
End User Essentials: OnBase 18 Unity Client
https://training.hyland.com/courses/P1527-End-User-Essentials-OnBase18-Unity-Client
End User Essentials: OnBase 18 Web Client
https://training.hyland.com/courses/P1528-End-User-Essentials-OnBase18-Web-Client